"This is the best (and only) stuff I've found to combat hayfever. I recommend it highly and heartily"
Roy Petersen

Thursday 11 July, 2013
HayfeGUARD in Buckingham Palace Coronation Festival Guide
The Hive Honey Shop were asked to display their honeys in the newly refurbished Summer House at Buckingham Palace. The Royal Warrant Holders are holding a special three day event to celebrate the end of the Queen Elizabeths Coronation Festival.
James, head beekeeper for The Hive Honey Shop, makers of HayfeGUARD Local Honey is a Queen Elizabeth Scholar in Beekeeping and Bee Breeding. He was invited to Buckingham Palace on July 11th for a afternoon of events and again for an evening gala featuring performances from Katherine Jenkins, National Ballet and many more.
'I watched as the Queen, Prince Charles and Camilla inspected the artisan crafts we scholars made, on display in the Summer house. Our honeys were sparking away, ling heather, meadow honey, wildflower honey (used in the preparation of the HayfeGUARD honey). In the offical guide given out over the whole of the event, HayfeGUARD is mentioned as a help to hayfever.
A massive stage with amazing lights and sound set up was erected at the back of Buckingham Palace gardens. There were two giant screens on each side of the stage but as I sat so close it was not necessary. I had to pinch myself- here I was sitting in Buckingham Palace gardens watching some of the finest performers in the world with the Queen and royal family sitting a short distance behind me. It was a beautifully warm sunny day. As the orange sun slowly set, casting a warm glow over the detailed sandstone carving of this majestic palace, champagne glass in hand, listening to Dame Kiri Te Kanawa sing the national anthem, a tiny voice in my head said- remember James you've got 40 beehive that need cleaning in the morning- but not bad for a beekeeper though'!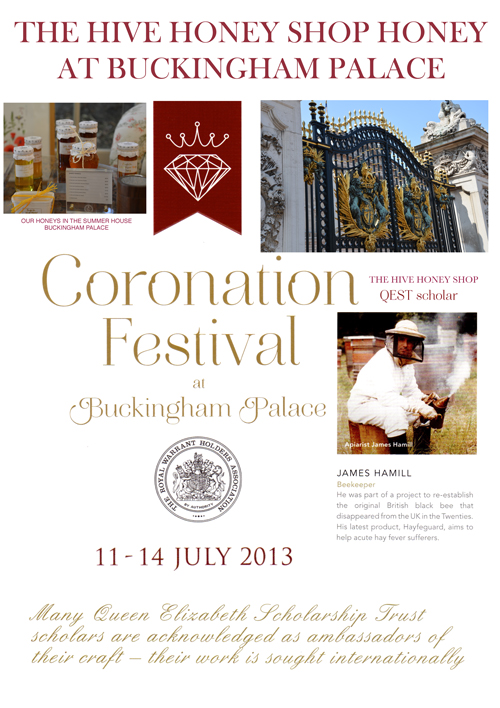 Return to News page