"This is the best (and only) stuff I've found to combat hayfever. I recommend it highly and heartily"
Roy Petersen

HayfeGUARD News
Subscribe to HayfeGUARD News Feed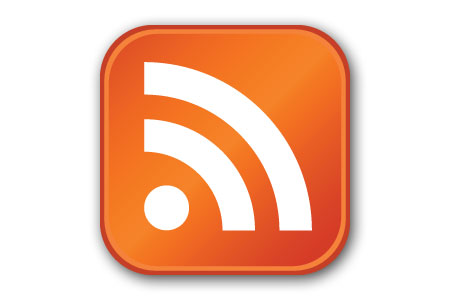 Friday 26 July, 2019
British craftsmanship in store Beekeeping talk
Just a reminder that you can meet our head beekeeper and have a FREE lip balm AND FREE Honey Cognac Cocktail to boot!
Chance to pop in and fire questions to our 3rd generation beekeeper James, ambassador for John Smedley Knitwear, celebrating British craftsmanship in store Beekeeping talk.
TBA-September 2019
55 Jermyn Street, St James's, London SW1Y 6LX
RSVP essential to: rsvp@johnsmedley.com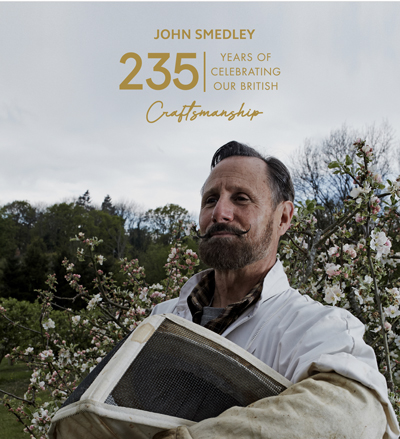 Wednesday 21 May, 2014
HONEY FOR HAYFEVER- We are on ITV Tonight!!
Martin Stew of ITV News London contacted The Hive Honey Shop after he heard we produce a special honey to help people with Hayfever. He was intrigued as to how it works and how it was made. So we invited Martin to visits The Hive Honey Shop to look around and chat with customers.
While Martin was here several people popped in the shop to stock up on HayfeGUARD® Local Honey and related just how well it had worked for them and their children. Martin just emailed us that the piece will appear tonight on ITV at 6:20pm.
I hope we helped to explain how local honey, containing raw local pollen has helped hundreds over the last 20 years we have been making it. Martin was a delight to speak to and we think even he will now consider the virtues of raw unpasturised honey in the future!
Have a watch tonight. Our bees will be thrilled!

Wednesday 1 January, 2014
HayfeGUARD Wins Best Remedies Award
HayfeGUARD® wins over all award for 'Best Remedies' by the public. The contest was held by Your Healthy Living Magazine to find what the public considered the best remedy. It was a landslide victory and a real surprise to us the response from you the public.
Thank you for all your votes and great feed back. We are so honoured to be awarded this, because it was the end users that rallied to voice their support. We love our bees and love even more that we can help bring a bit of comfort to those who suffer from hayfever.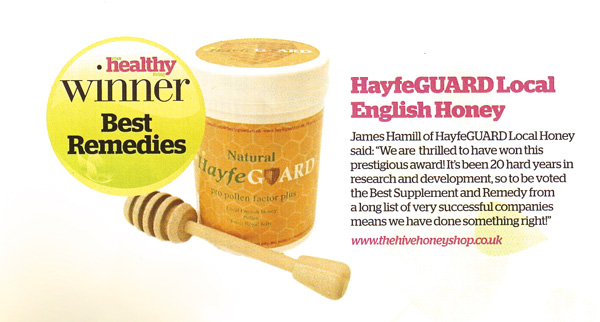 Thursday 11 July, 2013
HayfeGUARD in Buckingham Palace Coronation Festival Guide
The Hive Honey Shop were asked to display their honeys in the newly refurbished Summer House at Buckingham Palace. The Royal Warrant Holders are holding a special three day event to celebrate the end of the Queen Elizabeths Coronation Festival.
James, head beekeeper for The Hive Honey Shop, makers of HayfeGUARD Local Honey is a Queen Elizabeth Scholar in Beekeeping and Bee Breeding. He was invited to Buckingham Palace on July 11th for a afternoon of events and again for an evening gala featuring performances from Katherine Jenkins, National Ballet and many more.
'I watched as the Queen, Prince Charles and Camilla inspected the artisan crafts we scholars made, on display in the Summer house. Our honeys were sparking away, ling heather, meadow honey, wildflower honey (used in the preparation of the HayfeGUARD honey). In the offical guide given out over the whole of the event, HayfeGUARD is mentioned as a help to hayfever.
A massive stage with amazing lights and sound set up was erected at the back of Buckingham Palace gardens. There were two giant screens on each side of the stage but as I sat so close it was not necessary. I had to pinch myself- here I was sitting in Buckingham Palace gardens watching some of the finest performers in the world with the Queen and royal family sitting a short distance behind me. It was a beautifully warm sunny day. As the orange sun slowly set, casting a warm glow over the detailed sandstone carving of this majestic palace, champagne glass in hand, listening to Dame Kiri Te Kanawa sing the national anthem, a tiny voice in my head said- remember James you've got 40 beehive that need cleaning in the morning- but not bad for a beekeeper though'!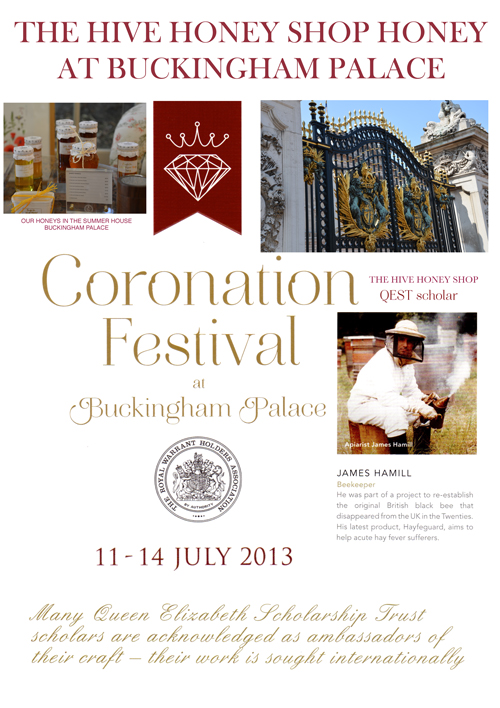 Saturday 30 June, 2012
G Baldwin & Co- HayfeGUARD Summer Catalogue Feature
G Baldwins & Co in Elephant and Castle London, purveyors of natural products Love HayfeGUARD! Tim the manager of Baldwins was very reluctant to take HayfeGUARD as he has normal local honey for sale. He was not sure customers would take to our special local honey, pollen & royal jelly preparation. We explained just how different HayfeGUARD is to a normal jar of honey, mainly you would have to eat around 10-14 jars of normal local honey to get the same amount of pollen contained in just one pot of HayfeGUARD Local Honey.
We gave him 24 pots to try as we were certain his clients would be interested. HayfeGUARD was a hit!. Baldwins sold them all in under a month and has now ordered 5 more units of 12 (60 pots). Tim has also featured HayfeGUARD in his store window display and has also spotlighted HayfeGUARD in his summer catalogue center fold.
Tim is very impressed with the reaction from his clients, but he agrees that you must explain to clients the difference between a normal pot of honey and HayfeGUARD honey. If people really want local pollen for health reasons, no question the pollen concentration in one pot of HayfeGUARD is far greater. It's better value, better results and they will thank you for making them aware of it, tell their friends, and come back for more! Congrats to G Baldwins & Co for helping to spread the word!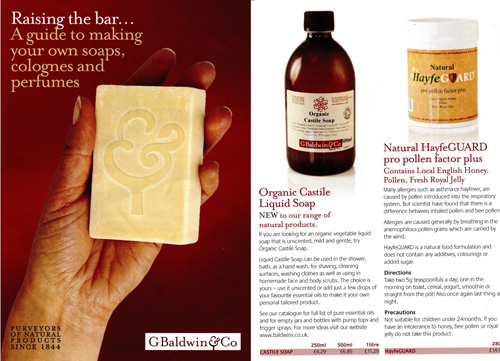 Friday 8 June, 2012
HayfeGUARD makes the Main Window Display at As Nature Intended-Balham Branch.
Here's another photo of the HayfeGUARD window display. They have done a great job I think you will agree- very inviting!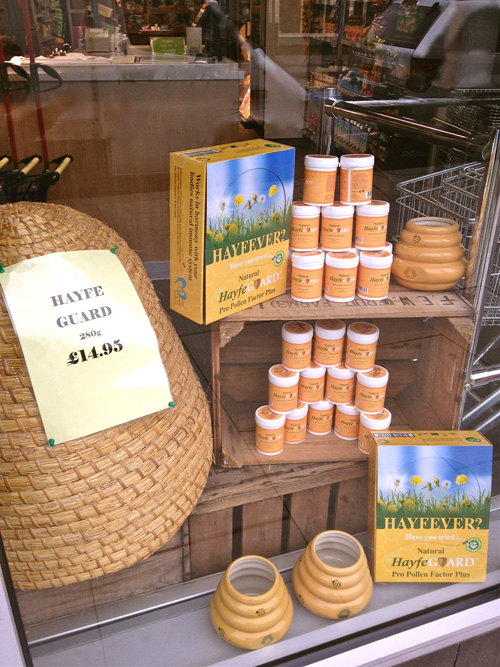 Friday 1 June, 2012
HayfeGUARD makes the Main Window Display at As Nature Intended-Balham Branch.
Here's a photo of one of our loyal stockiests making the most of spreading the word about Local Honey! Their staff are really well trained in helping their customers, answering questions about what make a good local honey, what is in bee pollen and royal jelly. Because they are so well versed and helpful, HayfeGUARD is flying off the shelfs.
Join As Nature Intended-Balham in serving your customers with really good help and advise. Well Done Balham!!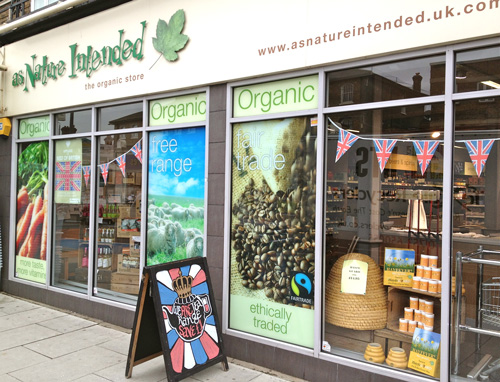 Monday 6 February, 2012
Fortnum & Mason Stock HayfeGUARD®
The HayfeGUARD® brand is now on sale at Fortnum & Mason Piccadilly London. We are pleased that HayfeGUARD® has been recognised by one of the top retail outlets in Britain. This move will promote the brand and help increase public awareness.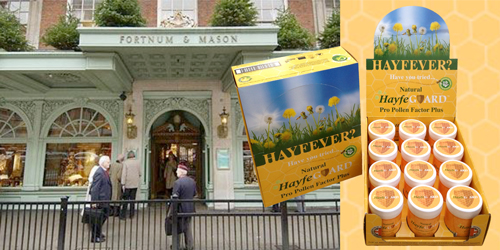 Friday 1 April, 2011
I was wondering whether Hayfeguard being unpasteurized is safe to take in pregnancy?
28 Mar 2011, at 15:38, Vicki wrote:
Hello, I was wondering whether Hayfeguard being unpasteurized is safe to take in pregnancy?
Thank you
Vicki
Hi Vicki
Great question! Funny we are getting loads of pregnant women emailing us about this.
First let me explain, honey is pasteurised by large honey companies in order to stop the crystallisation (honey setting) and for no other reason. It is not done to kill bacteria or yeast's etc. Unlike milk that needs to be pasteurised, honey does not. Raw honey itself kills bacteria, yeast's and moulds in three ways,
1- by cell dehydration
2- by a natural hydrogen peroxide formed from glucose oxidisation
3- by its naturally high acidity
By pasteurising honey you kill off many of the therapeutic benefits contained in the honey, shorten its shelf life, kill the pollen, taint the taste, drive off the subtle oils that give the honey its special taste and texture. It's really just a very bad idea!
Next question I usually hear is, 'But I've heard not to give babies under one year old honey'?
You may have heard not to give honey to children under the age of one. This is true. The reason is because they do not yet have the ability to deal with mild spores in the gut which is present in many foods. However that does not cross over to the mother eating honey or breast-feeding. You are eating the honey and assimilating it. My wife ate both raw honey, pollen and fresh royal jelly during her pregnancy with my daughter, who is now never sick and strong as an ox. I put this down to the honey, pollen and royal jelly. Pollen is a fantastic protein source, that growing children need to develop muscles, strong bones and teeth. So I think it has many benefits for your child as well as you.
I have had quite a large number of pregnant women that used HayfeGUARD during pregnancy and their midwifes suggested it. As many GPs point out antihistamines are not a good idea to take during pregnancy. As I always recommend, have a word with your GP or midwife before taking HayfeGUARD or changing your diet routine during pregnancy. See what they have to say. They know you and your specific health requirements/limitations. HayfeGUARD is a complete natural food that only contains English honey, pollen and fresh royal jelly. They should be able to advise you with those facts.
Hope that helps! Any other questions please feel free to call our HayfeGUARD Hot line, manned by expect beekeepers who can answer many of your questions. 020 7801 6944
All the best and please send us a pic of your beautiful baby when it arrives!
Kind regards
James
Hello James, wow, how interesting and many thanks for the reply. I shall buy some forthwith and start battling off my impending hayfever - if I'm not too late!
Many Thanks
Vicki

Saturday 19 March, 2011
Local Honey Website
We are very excited about the dedicated HayfeGUARD® Local Honey website for all to see. It's packed with information, photos, testimonials, case studies and will be able to answer and support all your questions.