"This is the best (and only) stuff I've found to combat hayfever. I recommend it highly and heartily"
Roy Petersen

Stockists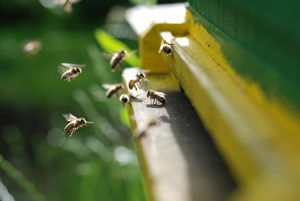 Here's a list of very lovely people helping bees and beekeeping by kindly supporting HayfeGUARD®. By them joining the HayfeGUARD family we are able to continue to help bees and beekeeping throughout the UK and abroad. So do please contact them and let them know you approve of their commitment to helping our honeybees!!
Find a Local Stockist
HAVE YOUR COMPANY LISTED HERE FOR FREE!
The Hive Honey Shop
Health Foods
767 Fulham Road
London SW6 5HA
Tel: 0207 736 8848
BeeGum
15 Hippodrome Mews
Nottinghill Gate
London W11 4NN
Tel: 07977 535377

Natures Choice Health Food Store
47 Church Lane
London E11 1HE
Tel. 020 8539 4196

G. Baldwin & Co. Ltd
171 Walworth Road
London SE17 1RW
Tel: 020 7701 4892
The Olive Tree
152 Willesden Lane
Kilburn, London, NW6 7TH
Tel: 0207 328 9078
Apples & Bees
258 Battersea Park Road
London SW11 3BP
Tel: 020 7223 3330
also
107 Sheen Lane
London
SW14 8AE
House of Mistry
15-17 South End Road
Hampstead
London NW3 2PT
Tel: 0207 794 0848
Health Zone LTD
30 Wimbledon Hill Road
London SW19 7PA
Tel: 0208 944 1133
Hara Health
231 Finchley Road
London NW3 6LS
Tel. 0207 794 5486
Nutrition & Beauty Centre
246 Upper Tooting Road
Wandsworth
London SW17 7EX
Tel. 0208 672 5417
Green Lifestyle Healthfood Store
137 Stroudgreen Road
London N4 3PX
Tel: 020 7272 3432
Panacea Health & Beauty, Edgware Broadwalk Branch
23 Broadwalk Center
Station Road
Edgware, HA8 7BD
Tel: 0208 905 6931
London Health Foods Ltd
51 Broad Street
Teddington Middlesex TW11 8QZ
Tel: 0208 977 8899
Lewisham Pharmacy
324 Lee High Road
Lewisham London SE13 5PJ
Tel.: 0208 852 7438
The Village Wholefood Store
23 Forty Hill
Enfield
EN2 9HT
Tel: 0208 366 5108
Third Space Medical
67 Brewer Street,
Soho, London
W1F 9US

Beyond Medispa
Harvey Nichols,
Knightsbridge, London
SW1X 7RL
The Good Life
207 High Street
Sutton Surrey
SM11JU
Tel: 02087701156
Website: www.nutrisun.co.uk